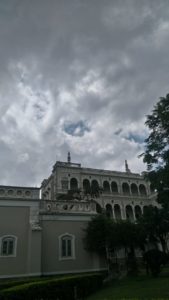 Just to explore some not so often visited places in Pune, I came across a historically important place – Aga Khan Palace. So it just brings to my mind that Aga Khan Palace – a place of such historical importance is not that famous as compared to other historically and culturally important monuments in Pune and also not to-go-for place that easily comes to one's mind (including myself till I visited!). Maybe due to other popular places are well known as being built by the Peshwas. But trust me, this place is not just historically important but also worth visiting as you might end up feeling peaceful too.
So let's just get to know this place a li'l bit – this palace was built by Sultan Muhammed Shah Aga Khan III in 1892 as an act of charity for the poor people in Pune. This palace also played a major role in Indian freedom movement as the freedom fighter Mahatma Gandhi, his wife Kasturba Gandhi and his secretary Mahadev Desai were imprisoned here. Also, Kasturba Gandhi and Mahadev Desai died in this palace. The ashes of Mahatma Gandhi, Kasturba Gandhi and Mahadev Desai were buried here. Now the interior of palace has been converted into a memorial named – Gandhi Memorial.
The premises of the palace is surrounded by a lush green lawn area and a few trees protecting the exterior. There's also an old library connecting the palace. The more you approach towards the palace, the more you wonder whether you are in a Gothic era as the architecture of the palace is just marvelous and one of the best architectures I've ever come across! Not to mention, I'm no architecturally known person, though I could guess the type of architecture it must be – Gothic with a mix of Renaissance and Romanesque. The outer part of the palace is surrounded by symmetrical galleries and its most significant part – the Romanesque pillared design. Doubtlessly those pillared designs are the highlight of the galleries. Once you finish your round appreciating the galleries, get inside the palace – the memorial.
High, sun-bathing windows and a standing statue of Mahatma and Kasturba Gandhi will welcome you just as you enter into the memorial part of the palace. You might also come across a few paintings surrounding the area. The paintings depict the era of Indian freedom movement – activities held during the era and other concerning movements. There's a section that includes the belongings of Mahatma Gandhi and Kasturba Gandhi and also a brief information about Aga Khan dynasty.
Getting out of the other side of the palace, there is a red-bricked way which leads to where the ashes of Gandhiji, Kasturba Gandhi and Mahadev Desai. Right now, at this moment – this place is far more than just not being so touristy.
This place sure puts an unexplained effect on you for you are not the same person anymore when you had entered the mansion. Also you can't help but being in both Gothic and Indian freedom movement era at the same time. And while stepping out of the mansion, your soul is resisting to get into the existing era. Aga Khan Palace may not be on 'Things to do before you die' list but if you are one of those who fall under the spell, the mansion of the palace will be waiting for you.